Boulders & Beats!
Our first Boulders & Beats is happening!

Make sure to come to Revolt on Friday October 7th: the first Boulders & Beats edition in Revolt! You will find many awesome boulders, a friendly competition and live music with great DJ's. We are so happy about this 😊
The kids will be welcome on Sunday morning for the Kids Edition!
Don't miss it 👊🏼⚡🔥
#boulderevent #revolt #bouldering #climbing #workhardplayharder
Revolt Bouldering Gym
In our bouldering gym both recreational climbers and climbers at the top level can climb and train hard on new school boulders.
Our state-of-the-art climbing walls, built by T-Wall who also realised the Studio Block walls in Germany, will offer new and challenging bouldering problems at all levels.
Opening hours

The opening hours are:
Mon-Fry 11.00-23.00
Saturday 09.00-23.00
Sunday 10.00-23.00
Hope to see you soon!
Revolt, Walhalla and De Campus are joining forces!
By collaborating, we make bouldering in all our gyms better.
The biggest benefit for you will be, that from today, July 20th, your subscription or 10 punchcard will be valid in all 3 gyms!
3 boulderinggyms, one subscription!
Location
Kleveringweg 35, 2616 LZ Delft.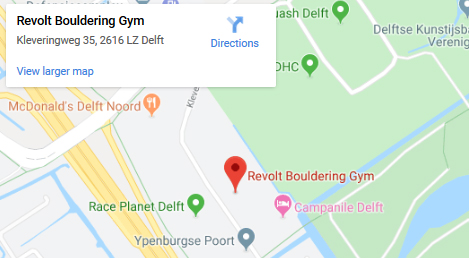 Video
Watch the video made by POF!ZAK
Contact
Stay in touch? Follow us on Instagram or Facebook .
Or contact us by email: info@revoltclimbing.com