First time bouldering?
Have you never bouldered before but would you like to get introduced to this amazing sport? The sport is very easy to get into! Sign up for a short and free introduction by filling in the form below! Minimum age is 14 yrs. This form is not for inquiries on youth training.
Start to boulder October
Just started bouldering and eager to learn more? We offer the Start to Boulder course! 4 lessons on October 5, 12, 19 en 26 from 19.30 – 21.00
The course only costs 45,- (excluding entree). If you want you can also choose the option of paying 115,- and you get two months entree! To enter, mail to: groepen@revoltclimbing.com
Opening hours
The opening hours are:
Mon-Fri 11.00-23.00
Saturday 09.00-23.00
Sunday 10.00-23.00
Hope to see you soon!
Bouldering with a group? Would you like to organize a group activity in the gym? With or without an instructor? There are many options, send an E-mail to groepen@revoltclimbing.com for information.
Revolt, Walhalla and De Campus are joining forces!
By collaborating, we make bouldering in all our gyms better.
The biggest benefit for you will be, that from today, July 20th, your subscription or 10 punchcard will be valid in all 3 gyms!
3 boulderinggyms, one subscription!
Location
Kleveringweg 35, 2616 LZ Delft.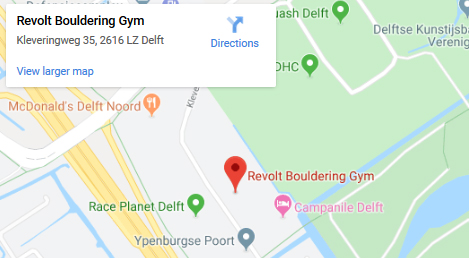 Contact
Stay in touch? Follow us on Instagram or Facebook .
Or contact us by email: info@revoltclimbing.com
Revolt bouldering gym
In our bouldering gym both recreational climbers and climbers at the top level can climb and train hard on new school boulders.
Our state-of-the-art climbing walls, built by T-Wall who also realised the Studio Block walls in Germany, will offer new and challenging bouldering problems at all levels.