Revolt Bouldering Gym
In our bouldering gym both recreational climbers and climbers at the top level can climb and train hard on new school boulders.
Our state-of-the-art climbing walls, built by T-Wall who also realised the Studio Block walls in Germany, will offer new and challenging bouldering problems at all levels.
New opening hours
As you have heard by now: new corona measures mean that from Sunday 28th of November, the gym closes at 1700 every day. At least for the next three weeks. That is very unfortunate. To still give you all a chance to boulder, we'll open up earlier! From Monday the 29th our opening times will be:
Monday – Friday 08:00 – 17:00
Saturday – Sunday 08:00 – 17:00
For now, reserving a spot is not needed. If it turns out certain moments get too busy, we will start using Toplogger again for reservations of time slots. The other measures still apply. Please keep a 1.5 meter distance and wear a mouth mask when entering or leaving the gym. During bouldering itself it's not needed. Check in with your QR code.
As a young bouldering gym these measures effect our business hard. Just like other recently started gyms we didn't get any financial support. So we can use all your help! More and more of you visit us and enjoy bouldering at our gym. So: help your favourite boulder gym and get up early! 👊🏼⚡
Location
Kleveringweg 35, 2716 LZ Delft.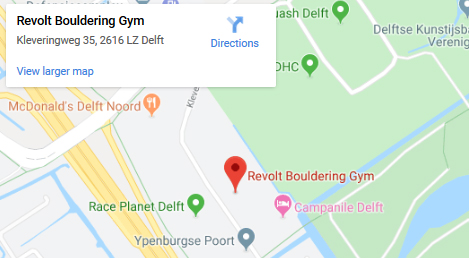 Video
Watch the video made by POF!ZAK
Contact
Stay in touch? Follow us on Instagram or Facebook .
Or contact us by email: info@revoltclimbing.com